Longplay
US$6 - one-time purchase
Rediscover, enjoy and organise your album collection.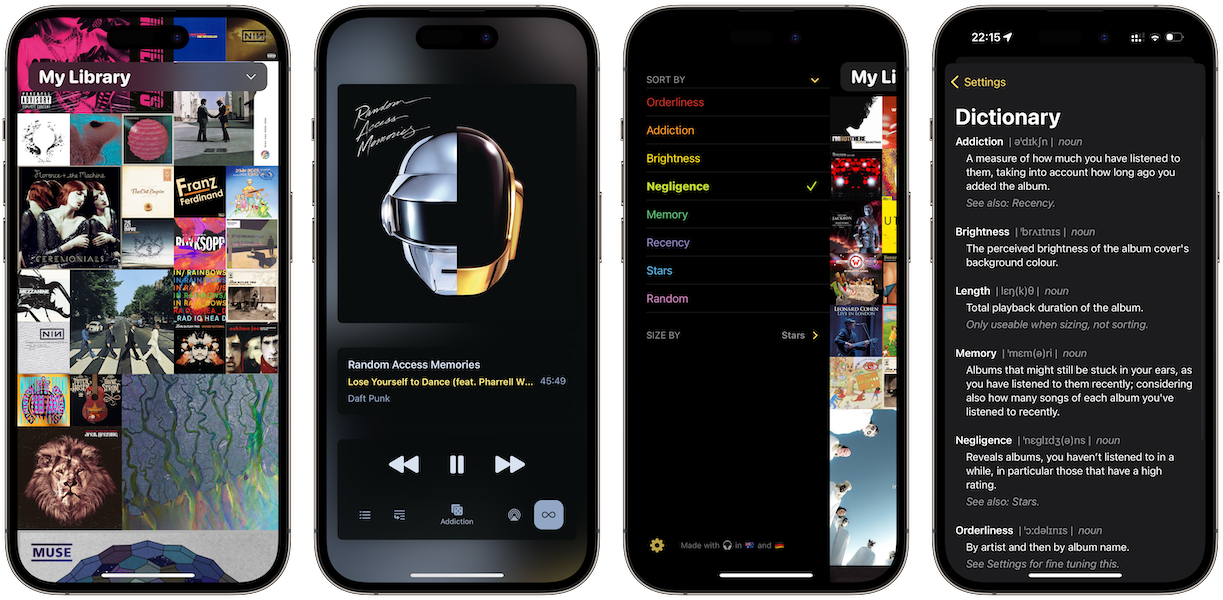 Rediscover your album collection
Like standing in front of your album collection, but with superpowers.
Quickly access your complete albums
Shows only those albums where you've added all or most of the songs. Listen with a single tap.
Funky sort options
Sort by name, addiction, brightness, negligence, memory, recency, or your ratings. Explained via a little in-app dictionary.
Big and small
Size albums by addiction, negligence, recency, your ratings, or album length.
Discover forgotten treasures
Sort by negligence to reveal albums you haven't listened to in a while but rated highly.
Your music
Works with any music that is in your Music app, be it from Apple Music, iTunes purchases or manually synced.
Enjoy your music
Quickly start listening, stay in the flow with infinite album shuffle or your own queue, and take albums with you wherever you are.
Infinite album shuffle
Stay in the flow, with smart shuffle depending on your current collection or sort order.
✨ New in 2.0 ✨
Shuffling becomes an experience
Hold down the shuffle button to start cycling through albums. Let go to pick. Swipe left/right to manually go back or forward through the albums.
✨ New in 2.0 ✨
Album queue
Do it your way and queue up albums manually.
✨ New in 2.0 ✨
Home Screen widgets
Mini album wall for your home screen, that doubles as a "Feeling lucky" play button.
CarPlay
Access your albums and collection from the comfort of your driver's seat. Perfect for long road trips.
✨ New in 2.0 ✨
AirPlay aware
Switch to an AirPlay speaker or headphones right from the Now Playing screen.
Organise the way you want
Organise albums into collections
Group your albums and playlists, for a road trip, kids, by language, live albums, you name it.
✨ New in 2.0 ✨
Star ratings make sense again
Sort orders adapt to your star rating, or set your playback to auto-skip songs below a certain rating. Rate right in the app.
✨ New in 2.0 ✨
Scrobbling
Track your listens through Last.fm or ListenBrainz.
✨ New in 2.0 ✨
And more...
Siri & Shortcuts support
Use Siri or create Shortcuts to trigger playback using Longplay from outside the app.
✨ New in 2.0 ✨
iCloud sync
Your collections, hidden albums, ratings, and playback statistics sync automatically using iCloud.
✨ New in 2.0 ✨
Handles large collections
Works with thousands of albums.
✨ New in 2.0 ✨
Mobile data friendly
Highlights albums you have downloaded when not connected to Wi-Fi.
Made with love
The app is made by myself and I use it pretty much every day. I love feedback, read all and try to reply to everything, too.
Longplay is the iOS app for music lovers who enjoy listening to full albums, especially if they have a hard time isolating them in their music library. It provides a beautiful view of the album artworks of the (near) complete albums in their music library with one-tap access to play them.

Available for iOS 15 for iPhone, iPad, and iPod Touch, in English and German.
Steve Jobs would have loved it.

Great idea and beautiful design. I love the different discoverability angles, especially Negligence.

Full album listeners: assemble!

This iOS music player is perfect. This is exactly how I like to play music; one record at a time, from start to finish. OUTSTANDING work!

Very nice job with Longplay! Love the wall-of-albums UX.

Thanks for Longplay, I miss the days I could stand before my collection to find forgotten treasures.

I do like listening to albums front to back. What a great idea.

What a great app! Listening to full albums is the only proper way to consume great music.